Being a professional women's basketball player comes with many challenges. Due to limited number of teams and roster spots in the WNBA, if a player is cut, she finds herself in a difficult position when trying to get back onto a team. One former WNBA player has a solution that may change the landscape for women's professional basketball.
Former WNBA Champion Janell Burse (Lynx, Storm) has teamed up with  up with a fantastic group of basketball enthusiasts to launched the Women's Minor League Basketball Association (WMLBA). With its inaugural season kicking off this summer, Janell will serve as the league's Commissioner to ensure that the league is successful, reaches the masses, and develops a talented group of women into elite talent.
Check out part 2 of our interview with Janell, where we talk about her time in the WNBA, her new role as Commissioner of the WMLBA and more: \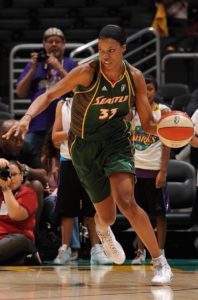 Let's switch gears to put the spotlight on you. Talk to me about your experience playing in the WNBA, and what did you take from it that inspired you to start the minor league?
The main thing that I took away is life after basketball, because I have witnessed players struggle with that transition and not knowing about opportunities that are out there. Pharmaceutical companies love athletes. A lot of companies love athletes because they know that they come from a team environment and they work extremely hard. It's ingrained in them from the time that they pick up a ball. The transition into life after basketball is something that I'm going to take on personally just to make sure that the women understand that they can't play forever. When I'm done playing, what am I going to do? What resources do I have? How can this league help me transition from an athlete to a working woman in corporate America or entrepreneurship. I think that more resources within the WNBA would be great for women to lean on when they are cut from teams and when they retire. You see it all the time in the NBA, where the guys can get broadcasting jobs or other opportunities. Obviously they are more known and have a much bigger platform, so a lot of these guys already household names.
What did you do with your career after you retired? As of late, we're beginning to see a lot of players retire and transition almost immediately into great opportunities. Swin Cash is on "WE Need to Talk" and also does broadcasting for the Knicks. In a past interview I had with Tamika Catchings, she told me that she aspired to work in a front office after playing, and she's doing that now with Pacers Entertainment. Some of the players do broadcasting during the off-season.
After I stopped, well actually, it was kind of towards what I knew would be the end of my career because I stated a family and it's extremely hard to play overseas while raining kids. I opened up a smoothie shop called "The Fresh Factor". It started off with just 2 locations in Houston, and now we currently have 7 locations between Houston and San Antonio. I went into entrepreneurship because I like being in the driver's seat and I don't like having other people be responsible for the outcome of something that I'm doing. I knew that if I worked extremely hard and did what I had to do, I would be successful. That's one of the reasons why I want to stress entrepreneurship to women to let them know that there are some really good opportunities availed, and to show them what's a good entrepreneurship opportunity and what's not. One thing that determines that is overhead costs and location. I learned a lot along the way. I didn't have a blueprint for it, but once you go from two locations to seven, you kind of have a copy-and-paste model of how things are done.
Where exactly are your shops located? I do plan on visiting when I'm in town.
Laughs) Absolutely! We have 4 shops in Houston and 3 in San Antonio.
What are your plans on expansion and having teams in other regions in the country? Are there any cities in particular that you have your sight set on?
We're definitely looking into tapping into that Miami market next year. We absolutely want to move up North, but I think that our focus of expansion is going to be on the West Coast in 2018.
One thing I want to go back to is your comment about being engaged in the community. We are in very interesting times as a nation and there's so much going on. Some of the hot button topics include issues under the umbrellas of race and gender, including equal play, women's and gay rights, and the Black Lives Matter movement. How do you plan on using the WMLBA and its players to address these issues and to be a part of the conversation?
It really depends on the issue. As a front office, we have to take a stance that represents the community that we serve in. Period. I don't see any major issue going on that the league does not address or that we don't allow our players to express themselves (as long as it's not offensive to anyone). We're at a tome right now where a lot of people want to be seen and heard and are very passionate about different views and things going on in society overall. We have to support the voice of our players and the voice of our league, and hopefully we make a positive impact in the communities that we serve.
What does your day-to-day look like as Commissioner?
I swear so many hats (laughs). It varies from day-to-day, but the main things that I focus on is my ownership group and making sure that those guys are have everything they need, have all of their questions answered, and that we're all moving cohesively towards the season. Our owners are THE most important part of what we're doing, and they better they are, the better our league is. We're also trying to build different relationships with different sponsors in terms of them having a part in the league and helping support us for the season?
When does the season start, and when can fans begin to look forward to some action?
Everything tips of on June 17th. We're going to have a good product on the court in terms of those women and their caliber of play. Pretty much all of the players come from Division 1 basketball. So I'm expecting some pretty intense games. We had a game in December, a shortened game that was about 27 or 28 minutes, and they scored 100 points! It wasn't like the defense was horrible, but these ladies know how to make plays and its high energy. I'm looking forward to this season and getting the women out there to see what they can do on the court.
Where can fans get in contact with you guys, and when can fans start to look for ticket information?
Everything will be on our website www.wmlba.com. Each teams' site will be up, so you can see the dates and locations, buy T-shirts, get anything you need. If there are any questions or inquiries, email us at info@wmlba.com.