If there's one thing the WNBA and NBA players are known for, it's their unique sense of style. Whether it's a classy, simple outfit, bold hats, or one-of-a-kind accessories, there styles are buzzed about just as much as their game. In their true competitive nature, some of this year's All Stars are taking it to the runway to see who has the best off-the-court style in the 1st ever NBA Fashion Show.
"NBA All-Star All-Style", presented by Samsung Galaxy and produced by LeBron James' Springhill Production Company, will be divided into three rounds: dressing for the boardroom, a night out, and attire worn to the game. Eight players will start the competition, with four advancing to the second round, and the top two competing for the finale.  Entertainers and models, including Chanel Iman and Shanina Shaik) will also be featured in the show, will be judged by Chicago Sky's Elena Delle Donne, TV Analysts Kenny Smith and Charles Barkley, GQ style editor Will Welch, and designer John Elliot .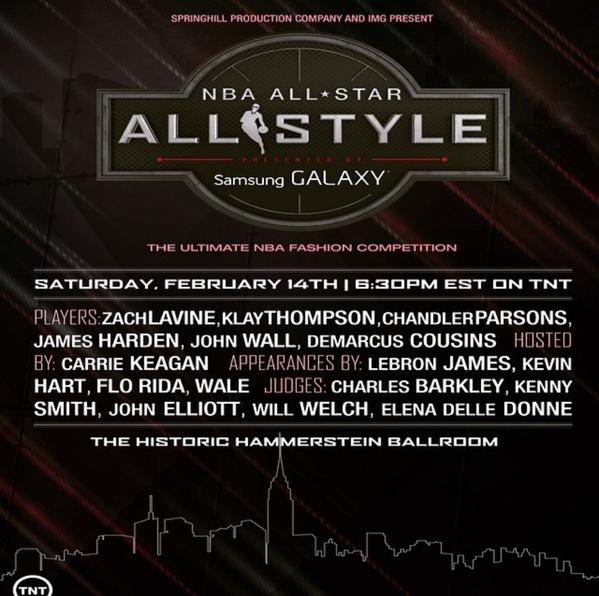 Taping will take place on Friday night at the Hammerstein Theater in New York City, but you have the chance to watch it yourself on TNT on Saturday, Feb. 14th at 6:30pm EST, right before All-Star Saturday night. I'm curious to see what outfits and who's style impresses Elena the most. And with James Harden, Klay Thompson, Chandler Parsons, DeMarcus Cousins, Zach LaVine, and MORE competing?? This is going to be good!
(Catch the full story here.)
(Photo credit: ElenaDelleDonne.com)