During NYU's 14thAnnual Cal Ramsey Distinguished Lecturer Series earlier this month, the featured guest, NBA Commissioner Emeritus David Stern, said he understands Diana Taurasi's decision to sit out the 2015 WNBA season, stating "I think that a player at the end of their career who has a lucrative opportunity, you can't find fault with that."
Taurasi, reigning WNBA Finals MVP and a point guard for the current WNBA Champion Phoenix Mercury, announced earlier this month that she will rest during the 2015 season at the request of her Russian team, UMMC Ekaterinburg. This sent shockwaves throughout the sports world, bringing attention to the controversial salary structure of the league. Taurasi will earn $1.5 million from her Russia club this season, a staggering 25X more than the league max of $107,000 that she earns with the WNBA. While many are surprised at their salaries (especially in comparison to their brothers in the NBA), Stern has more honest and realistic outlook on the situation. When asked what he would have done differently if he were still in office, "Well, you know, this may be politically incorrect, but the players' salaries are based upon the gross of the league, and it's growing." he said. "It started out being, paying….top players got 60 and now it's way up over 100. And if a player can get a million and a half dollars playing in Russia because of their reputation in the WNBA, I think that's something that I understand completely."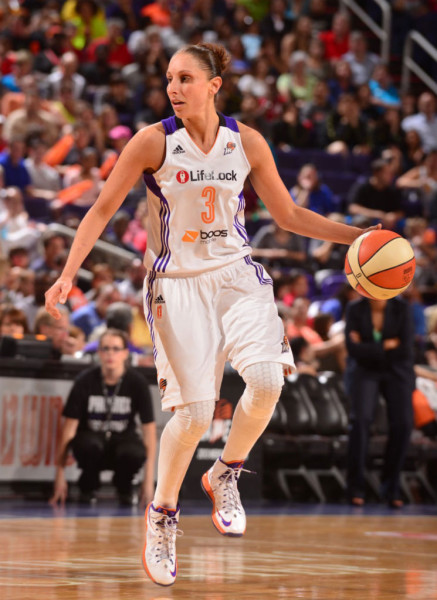 The former commissioner is all too familiar with the dynamics of the women's league. After a successful Olympic season, the WNBA was formed in 1996 during his tenure, which he describes as an intelligent business decision. "I thought that we were the only sport that could credibly have a women's league." Stern said. "The perfect model was NBA teams having WNBA franchises playing in the summer, where we can steal some time from baseball, where they can employ staff in their building, and they would have programming for their local and regional sports channels."
Stern isn't the only member of the NBA front office to support Taurasi's decision. Interim executive director of the WNBA Player's Association, Michele Roberts, also voiced her support of the WNBA star's decision in a statement released the same week as Taurasi's decision.  "Diana is one of the most dynamic players and fiercest competitors in the history of basketball," she said. "Her decision appears prudent, measured and totally understandable. It is clearly a loss for the Phoenix Mercury and the entire WNBA, but we look forward to her scheduled return in 2016." Taurasi has also received support from other WNBA players, including veterans Sue Bird, Swin Cash, and Tamika Catchings, and younger stars Skylar Diggins and Shoni Schimmel.
When Stern took over as commissioner of the NBA in 1984, the league was struggling with low attendance rates, bad TV deals and airtime, fighting among players, and drug use. During the lecture, he talked about some of the controversial sentiments he had to face from others, including negative perceptions of the players based on race, and HIV/AIDS being pushed to the forefront after NBA Legend Magic Johnson retired after acquiring the disease. He had to face those same naysayers again after creating the WNBA, where he was met with criticism by some members of media, causing him to become frustrated. "It sort of got personal because every time we met with a reporter from some radio outlet or one of the newspapers, they would say 'Well, the WNBA is not going to go more than a season.' And then they'd say "Well it's not going to go more than 2 seasons. And so, we started to get pissed off."
With the league entering its 19th year, there have been major signs of promise, including increased attendance, the most elite talent to date, and a $12 million dollar TV deal with ESPN through 2022. Along with his realistic and honest expectations of the league's growth, he has a very positive and optimistic outlook on its future. "I think that it's going to be a slow build. It's going to go up every year. If we can bring in fans, raise television revenue, it will happen. There are plenty of other players, and stars as the women's programs increase because more players are staying in college and perfecting their skills because there's a place to go called the WNBA."
 The lecture was an enjoyable, educational, and enlightening one, where the audience truly were able to capture David Stern's passion and love for the game of basketball and for the entire NBA enterprise. In addition to his optimism and positive spirit about the future of the WNBA, it was refreshing to see him remain realistic and honest about their growth and what to expect as well.  Having set the blueprint in place, the league will continue to grow and prosper steadily and successfully due to the bold business decisions he made and his genuine love and belief in the league.