by Scott Mammoser
McWilliams-Franklin adjusts to new role with Wings
By Scott Mammoser
The first thing Taj McWilliams-Franklin said when she sat at the podium on Tuesday was that it had been a long time since she's "seen one these." It doesn't seem like it's been that long since she last suited up as a 41-year-old in the 2012 WNBA Finals.
The six-time All-Star and WNBA champion with the Detroit Shock and Minnesota Lynx was thrust into her current role as interim head coach of the Dallas Wings with just three games remaining in the regular season. The eighth-seeded Wings lost at the Phoenix Mercury, 101-83, to end their season on Tuesday in the opening game of the WNBA Playoffs.
"Our team really battled," McWilliams-Franklin said. "Phoenix played out of their minds, had great shooting from their Big Three. We are really proud of the future of the Dallas Wings. Our kids are young. This is the millennial generation; they have short memories, which is great because we still kept pushing. When you have confidence, the basket is humongous."
The Wings trailed the Mercury by four at halftime, but Phoenix pounced on a 20-point lead in the third quarter and shot 13-of-29 from downtown to advance to play the Connecticut Sun on Thursday in the second round.
"They ask me the big change," McWilliams-Franklin said. "I tell them 'I just talk more in practices, during video and for during the game.' For the players, they understand what I'm talking about, I know about, whether I'm the assistant or the coach, and they respect that. There is no new formula, now that I'm the head coach. You play quickly and defend, and that's what we've done all year. We have lapses like we've done tonight. You can't have a happy ending every time, unless you go through some things."
The Wings parted ways with head coach Fred Williams following an altercation after the August 12 game in Washington, and after a loss to the Sun, Dallas beat Las Vegas 107-102 to clinch the final playoff spot.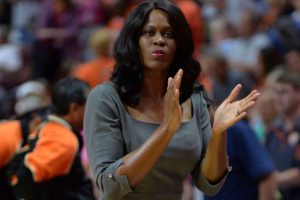 "I've played against Coach Taj, so she's been in this league for a long time," 28-year-old Wings guard Skylar Diggins-Smith said. "She built our confidence and believed in us. I have nothing but great respect for Coach Taj. She's amazing and knows a lot about this game. She's won championships, played like 16 years, overseas, year round. She's the OG, we love Coach Taj."
Prior to her current role, McWilliams-Franklin was an assistant for Boston University, the New York Liberty and Rice University, and she was the head coach at Post University, a Division II private school in Waterbury, Connecticut. Now she is coaching some of the best young players in the world, such as Liz Cambage, the 27-year-old center who led the league in scoring with 23 points per game and set the record of 53 points in a game last month.
"It wasn't easy, coming into that role after everything that went down," Cambage said. "I have so much respect for Coach Taj and Coach Williams, I love them both, and I have nothing but good words for them."
Diggins-Smith scored 23 points in the loss on Tuesday, while Cambage scored 22 and grabbed 12 rebounds. DeWanna Bonner recorded 29 points and 11 rebounds to lead the Mercury, with Diana Taurasi scoring 26 with 12 assists, Brittney Griner adding 17 points, and Stephanie Talbot notching 11 points and 11 rebounds.
McWilliams-Franklin also said she believes Griner and Cambage are the two best centers in the game today, and watching them reminds her of the traditional styles of Hakeem Olajuwon and Robert Parish.
(Follow Scott on Twitter: @SMammoser)