After a breaking and setting records this past season with the Lynx, and winning the coveted league regular season MVP title, Maya sure has been busy stacking up on accolades….as she should.
Earlier this week, Maya was named the 2014 Female Athlete of the Year by USA Basketball. During this year's FIBA World Cup Tournament, held in Instanbul, Turkey from Sept. 27-Oct. 5, she helped lead Team USA to her second-consecutive FIBA World Championship title, a 56-2 all-time record with her on the team, and her sixth gold medal overall with USA Basketball. USA head coach Geno Auriemma called Maya "relentless" and also stating, "Her incredible level of competitiveness and the energy that she brings is second to none, and she just finds a way to be on winning teams."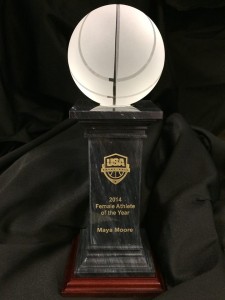 In addition to this honor by USAB, Maya also made the 2015 Forbes 30 Under 30 List as One of the Sports World's Brightest Stars. Some of her accomplishments highlighted on the site include successful run as a UConn Huskie and 2X NCAA champ, her stellar WNBA rookie season, and other milestones reached so far in her pro career. This year's list also includes Clippers PG Chris Paul and Houston Rockets PG James Harden.
Salute to you Maya and congrats!