It's hard to deny that the WNBA is one of the most diverse pro sports leagues in the world, and it's evident on the court as well as off court. One way that the league's diversity is displayed is through the players' sense of style. While some ladies have a more simplistic style, some ladies express themselves through a mix of edgy prints, classic fabrics, trendy footwear, and chic jewelry.
Connecticut's Chiney Ogwumike is quickly emerging as on of the shining stars of the WNBA both on-the court as well as off. Whether she's showcasing her baskebtlal IQ and comedic peronality by doing commentary for ESPN, or relaxing at home with her family in her hometown of Houston, TX,  the 6'3″ forward always makes sure to step out with class, style, and grace. We caught up with Chiney here in NYC during New York Fashion Week to talk about her personal style, cultural influences, and more:
How would you describe your style?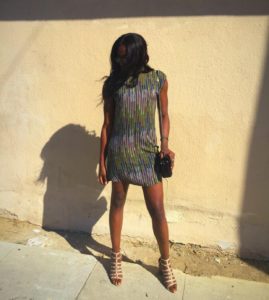 I think my style is chic, sophisticated, but subtle. I like to wear things that are simple, but fitted and classic. I'm also African, so I like patterns and colors. I'll have one dress, basically a fitted dress that I love the cut of, but I would get it in one hundred different variations just to mix and match. I'm very simple and sophisticated. Trying to be the female version of a classic man like Jidenna.
How has your background influenced what you like to wear?
Being Nigerian American is the best of both world because you get the richness of Nigerian culture and you can create a universal style around it. So I bring a lot of patterns and colors, they call it ankara which is the printed fabric mesh, and you can take the ankara and mold it into whatever you want. You can make a skirt out of the print fabric, or you can make a top. I usually make simple classic stuff that is a blend of both worlds of Nigeria and America.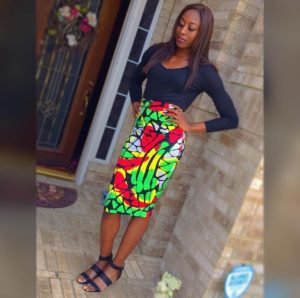 Who are some of your favorite designers, both Nigerian and American?
Oh my God! Michael Costello! I live for him! I watch Project Runway and he is my favorite. He's amazing, but I didn't know that he was going to be this big of a star. As far as Nigeria, I don't have one specific designer. I just love the Nigerian prints because anyone can manipulate them to make your own outfit. That's part of the culture—when you have weddings our events, you take the prints and you create your own custom outfit for those events. I try to do that as much as I can, so when I go to American events, people can identify and say "Oh, that girl's wearing African Ankara. She must be African.". It's the subtle things that you don't have to say, and that's what fashion is about.
Who are some players in the league whose style you admire? 
I think Crystal Langhorne has a really nice style. She's classic and sophisticated. She rocks it for tall girls. There are more daring women across the league, but I think I identify more with Crystal's style. I don't think I've got my budget like Crystal (*laughs*). She rocks Louis, Gucci, Fendi, and I'm still on Chipotle money.
(Photo Credits: Instagram)