by: Scott Mammoser
She's won more WNBA championships than anyone in the game, and as of July 5, no one has pulled down more rebounds. Rebekkah Brunson has engineered a Hall of Fame-caliber resume through toughness and grit. Still a physical marvel at age 36, the Minnesota Lynx power forward has the spring of a high jumper beneath the basket and the mindset of the consummate team player.
"Hard work is the key thing," Brunson said before she grabbed a game-high 11 rebounds in a recent game in Phoenix. "Being determined to accomplish what I want to accomplish. I've always embraced the things I've been good at, which is rebounding. I understood if I stay committed to that, and not listening to those telling me 'I have to be this player' or 'I have to accomplish these types of things to be great.' I stuck to that, and it encouraged me to work at what I was good at, and that allowed me to always be successful."
Sometimes an unsung hero, Brunson brings her hardhat and lunch pail to a Lynx starting lineup bulging with a who's who of Olympic gold medalists, FIBA world champions, No. 1 overall draft picks, and Wade Trophy winners.
"When you look at the team we have and look at that group, everybody is committed to doing whatever they can to help us be successful," she said. "Whatever the role might be, passing or scoring or defending, everybody in that group is committed, and I am not different. I will do whatever it takes to continue to win."
As a second-year player, Brunson was a key figure on the Sacramento Monarchs' 2005 WNBA title. After the Monarchs folded in 2009, she joined the Lynx and recorded a career-high 10.3 rebounds and averaged a double-double. The Team ensued to win championships in 2011, 2013, 2015, and 2017.
Brunson never did make an Olympic team, but she won silver in the 2003 Pan-American Games in the Dominican Republic and qualified Team USA for the Beijing Games, placing gold in the 2007 FIBA Americas Tournament at Valdivia, Chile. Her teammate, Maya Moore, has been winning Olympic and world titles in the even-numbered years that are opposite of Minnesota's four championships.
"Her professionalism I've admired since I came here," Moore said. "She's somebody who often times guards the best players on the other team, and at the same time, is somebody who is expected to help us offensively. Whether boarding, passing the ball or screening, she has so many ways in which she impacts the game. She's a huge part of our success. Every day, I don't know if you overstate how important someone like her can be, every single day. She's not afraid of anything, and we're all affected by the swagger she has and the actions."
For the past 18 years, half of their lives, beginning as freshman in the Big East, Brunson (Georgetown) and Diana Taurasi (Connecticut) have battled on opposing ends of the court. The answer to one of women's basketball's most-surprising trivia questions is that Brunson was the Big East Freshman of the Year in 2001, not Taurasi. Now, they stand as the WNBA's career leaders in points and rebounds. Few would have predicted that when they first faced off – a 107-45 UConn win.
"It's been fun, she's an amazing player," said Brunson. "I'm happy to see her journey as well. Starting out at UConn and watching her grow as a player and a person. One of the blessings of being in this league is watching other people be great, as well."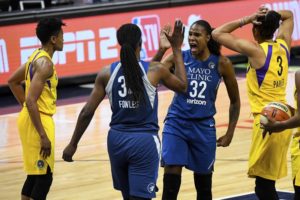 Brunson will also make her fifth All-Star appearance when Minnesota hosts the All-Star Game on July 28.
"It's an exciting time for the league and for Minnesota," Brunson said. "They have an opportunity to cheer for us after all of these years, as we continue to do what we're doing. Now they have a chance to cheer for the other players, as well."
Another credit to her physical and mental state is Brunson's adaptation to veganism, the abstaining from animal products.
"I make good choices that work for my body and work for where I stand ethically," she added. "For anything you put into your body, you have to make sure you have the right things and the right amount of things, so no matter what you are putting into your body, you need to be conscious."
Phoenix Mercury forward Camille Little also benefited from playing with Brunson when they were teammates with Virtus Eirene Ragusa in Italy.
"It's been cool getting to know the person," Little said. "It's different getting to know the person you played against. I am proud of her effort; it's awesome for our game. I hope a lot of young girls see what she does. It's a tough thing, to have that kind of stuff after your name for sure. It will be a really hard record to break. I'm super proud of her, and I am glad I can call her a friend."
This season, the Lynx might not be the dominating force it was for most of the past decade, but make no mistake, the veteran core will remain poised for a playoff run. And a sixth title? She would join Michael Jordan, Scottie Pippen, Kareem Abdul-Jabbar, and Robert Horry as the only non-Boston Celtics with as many rings. Whatever happens, her distinguished legacy on the hardwood is one for the ages.