NBA All-Star Week is officially upon us here in New York City, and the WNBA has some of the best players to represent the league. This year's newbie to the All Star festivities is none other than Shoni Schimmel of the Atlanta Dream. Words  can't describe how amped I am about this, and for that, she's my #WCW for this week! For those of you who may not know much about her, let me put you on to why "Showtime" is kind of a big deal:
Outstanding College Career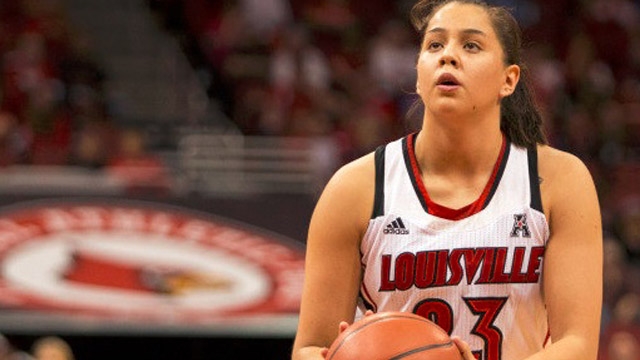 Perhaps some of you may remember Shoni as a player for Jeff Walz and the University of Louisville Cardinals. The 5'9″ point guard's name is etched in the team's history with a series of record-breaking accolades:
Became just the fourth Louisville player to score over 1,000 career points and dish out over 500 career assists
Set the school record for career 3-pointers made
Set the school record for 3-pointers made in a game
Ranks second on the all-time scoring list (2,174 pts. career total)
Named to the Top 5 of ESPNW's best shooting guards in the 2013-2014 season
Most Outstanding Player of the 2013 Oklahoma City Regional
2013 First team All BIG EAST Selection
During her junior year in the 2012-2013 season, she scored a career high of 38pts against USF and led her team all the way to the NCAA Finals against UConn.
Promising Rookie Year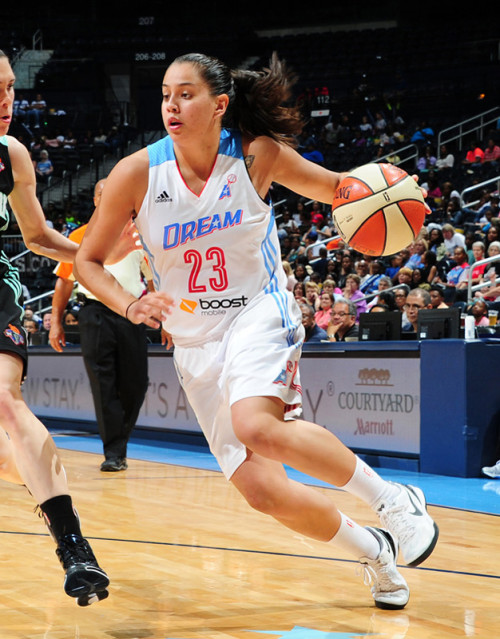 Shoni was selected 8th overall by the Dream in the 2014 draft. Her first year career totals may have been at a modest 8.3 PPG and 3.6 assists, her quick thinking and passing, and overall scoring ability show signs of a promise and a budding future star.
WNBA All-Star Game MVP
Showtime showed OUT at the WNBA All Star Game this past season! Scoring a record high 29 pts. and burying  7 three-pointers earned her the All Star MVP Award. Don't believe me? Watch for yourself:
Symbol for the Native American Community
Before her career at Louisville and the WNBA even began, Shoni had already made a name for herself in her hometown of Mission, OR. She was raised on the  Confederated Tribes of the Umatilla Indian Reservation, and was the top player. While playing at Franklin High School in Portland (where she ranked 8th in Oregon's all time scoring list and was selected for the 2010 WCBA All-American team, just to name a few), she and her family were the focus of "Off The Rez", a documentary by filmmaker Jonathan Hancock that followed her on her journey to become the 1st person on her reservation to earn a NCAA Division I basketball scholarship. It also featured her mother, who left the reservation to coach high school basketball in Portland, her sister, Jude, is currently playing for Louisville. The Native American community are one of her biggest supporters, coming out in huge numbers to many of her collegiate and professional games at various cities all around the country. Catch the trailer for this amazing documentary right here (now available on iTunes):
Scoring machine. 1st Native American player in the WNBA. Young, fast, and energetic point guard. All Star MVP. Now taking her talents to the city of bright lights this Friday night during the NBA All-Star Celebrity Game. Can't wait to see the performance Showtime will put on, because trust and believe…she will!