Exhibition season for USA Basketball has concluded as Team USA completed the second of two scrimmages prior to the start of the women's college hoops season.
The first one occurred last week in Knoxville, Tennessee where coach Cheryl Reeve's Stars and Stripes bunch departed from Rocky Top as 95-59 victors over the Lady Vols.
This past Sunday, the scene then shifted to Durham, North Carolina and the venerable Cameron Indoor Stadium at Duke University. The Blue Devils' famed Cameron Crazies were in full force that Sunday and they were treated to what was a highly competitive matchup between Team USA and Kara Lawson's Blue Devils.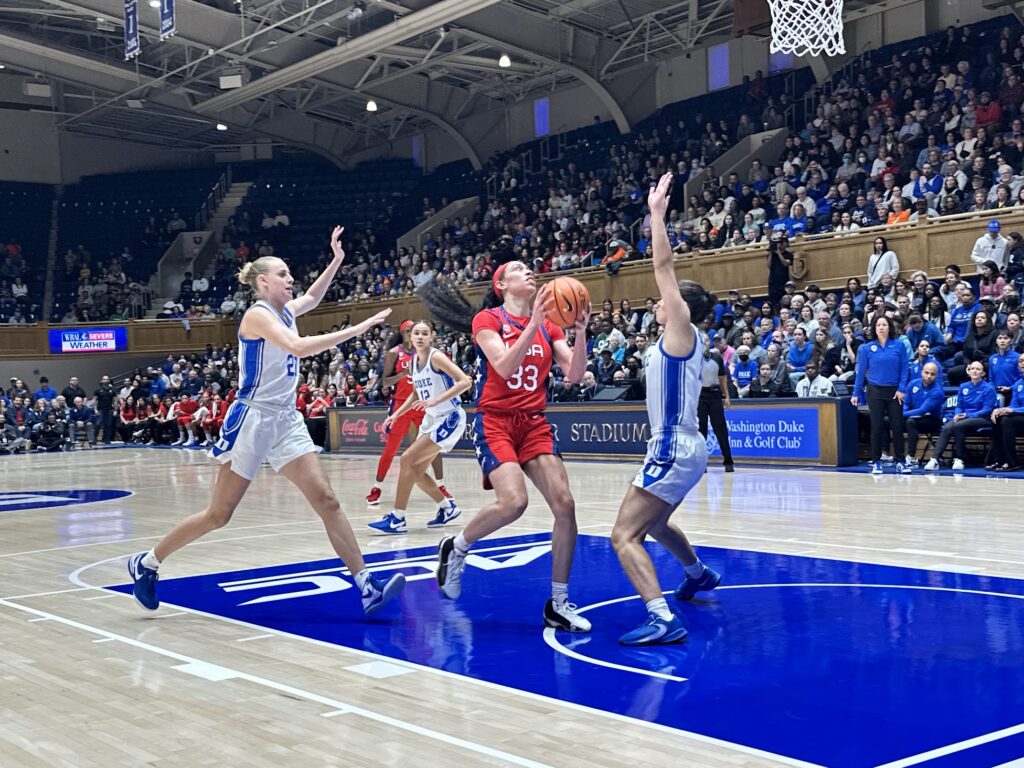 The final score from the second scrimmage would be Team USA 87 and Duke 58.
To give the women of the national team everything it could handle was the goal of Lawson's Duke bunch. Mission accomplished. Midway through the first quarter, the Blue Devils' margin with Team USA was only two with the national team's lead only being 16-14. That was before the red, white and blue closed the first quarter with an 8-0 that extended the team's lead to 10.
With one in the books, it was Team USA 24 and Duke 14.
The Blue Devils' deficit managed to remain in single digits in the start of the second quarter before the contest began resembling more of what one will expect from a Team USA scrimmage. The more experienced women of the national team began putting more distance between themselves and the homestanding Blue Devils and both teams went into halftime with Team USA ahead by a tally of 46-27.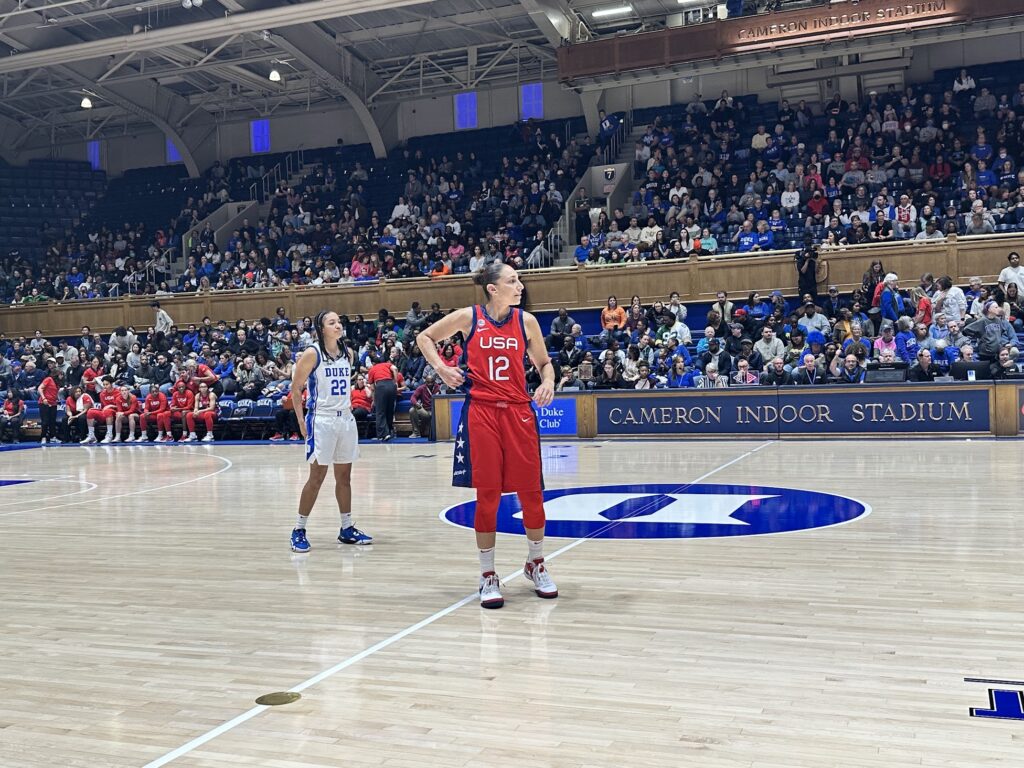 Stanza No. 3 actually turned out to be the most evenly matched of the three frames as Team USA only outscored Duke by one (19-18). The Blue Devils continued to established that they belonged on the same court as the national team matching Team USA point for point in the third quarter. It was 65-45 with 10 minutes left to play.
And when those ten minutes were complete, Team USA, as expected, went 2-0 for its preseason scrimmages. The national team outscored Duke 22-13 in the fourth quarter.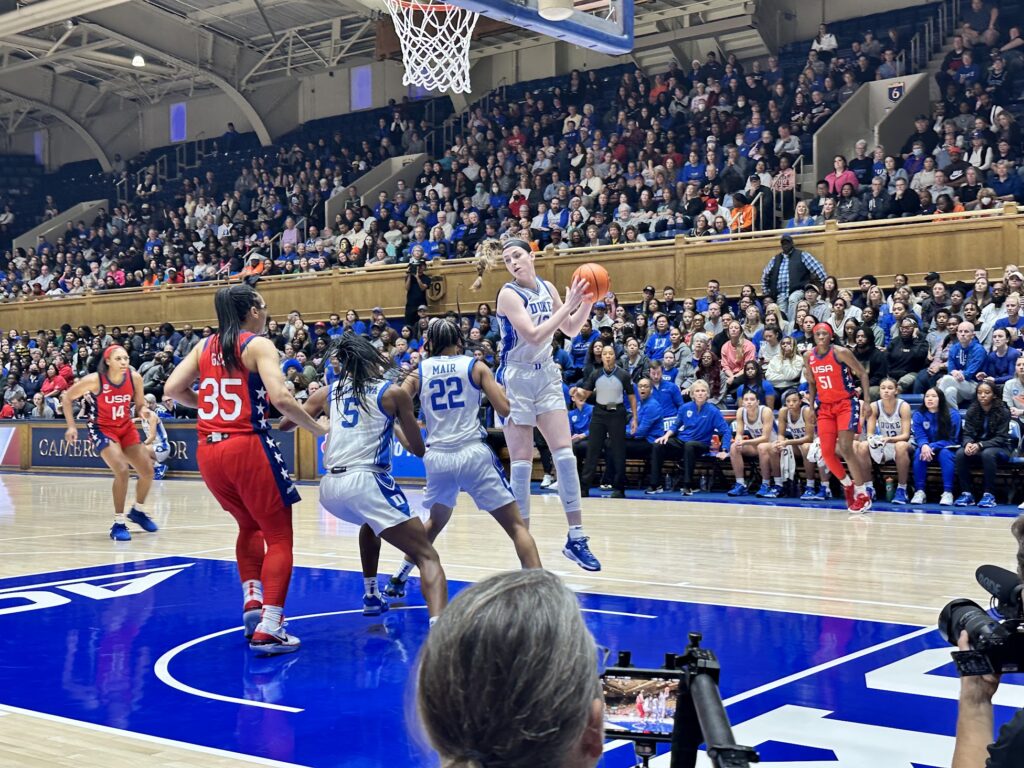 It was a really cool day for our team, and they were smiling from the moment they woke up and coming in here to get shots this morning and in the locker room before the game, anticipating playing against this team. To see them have little moments of success throughout the course of the game, I'm just really proud of how they tried to compete. I think there's a lot of good lessons for us in terms of what we need to work on.
–Kara Lawson, Duke women's basketball coach
Scoring-wise, Kahleah Copper led all scorers with 21. Allisha Gray also chimed in with a double-double of 16 points and 10 rebounds. Team USA also was the beneficiary of 14-point outings courtesy of Dearica Hamby and Rhyne Howard. Hamby also contributed eight rebounds and three steals to Team USA's efforts while Sabrina Ionescu led in the assists category with four.
Gray mentioned the difference between playing on a WNBA team and on the national team in her postgame media availability.
The game is easy. We share the ball, take good shots, so it just…it makes the game easy.
–Allisha Gray, USA Basketball (WNBA – Atlanta Dream)
Reeve mentioned one of the things she was impressed with in the two scrimmages was her team's ability to turn defense into offense – as well as fusing together athleticism with skillset.
If you ask both teams, I think that … defensively, I thought that we were difficult to play against. I think we play in transition well. That's a huge part of what we want to do – the easier offense. I think that we have both the ability to penetrate as well as shoot. Our spacing today was not as good as it was maybe against Tennessee. But, overall, we've got a variety of skillsets that you can utilize. The shooting – I've enjoyed someone like Copper having a good game today. Rhyne Howard is just somebody you've really got to get out there and guard. And really each player…someone like Diana Taurasi, Sabrina. We have a lot of good, skilled players and we also have the athleticism to go with that that I think poses challenges for teams.
–Cheryl Reeve, head coach of USA Basketball (WNBA – Minnesota Lynx)
On the Duke end of the ledger, Taina Mair led all Blue Devils point-getters with 16. Oluchi Okanawa finished with nine points and seven rebounds. Kennedy Brown contributed eight points, seven rebounds and two steals to Duke's cause.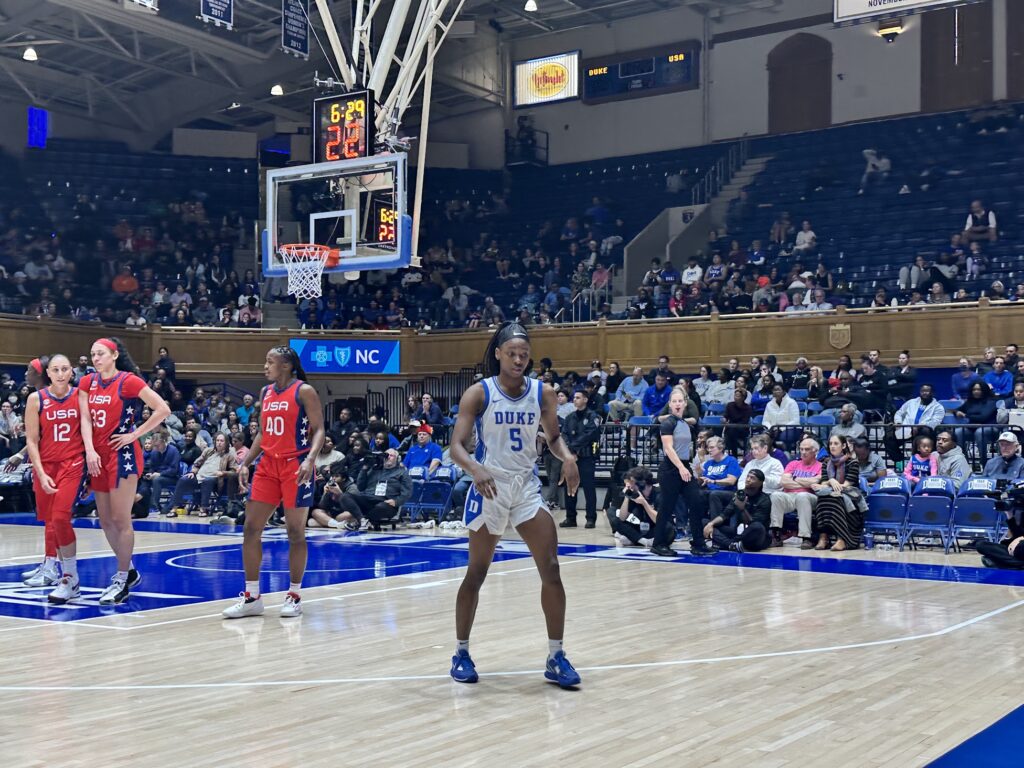 As for the Blue Devils, its regular season commences on the road at Columbia. Duke was successful in its three previous scrimmages against Wingate, Richmond and Coastal Carolina – all of which took place at Cameron Indoor Stadium.