With the fall basketball season right around the corner, young hoopers around the country will want to make sure their games are in tip top shape for the 2023-24 tip-off.
That is where Moolah Kicks is once again coming in.
The shoe brand, founded by Natalie White in 2020 while she attended Boston College, has established itself as a signature name in the realm of women's basketball sneakers. Moolah Kicks has announced that it will launch the Press Break – a performance shoe made specifically for girls.
According to a Moolah Kicks release, the significance of the Press Break's release pertains to young girls being able to sport a shoe that is tailored to said girls as opposed to wearing sneakers that are mainly tailored to the foot form of boys.
Dick's Sporting Goods, a partner of Moolah Kicks, will sell the Press Break in time for the start of the fall basketball season. Moolah Kicks' website also has several versions of the Press Break available for $90.
Per Moolah Kicks' website, there are six colorways available – all in youth sizes 3Y-7Y. One in black/white/gold, another in white/red/light blue, one in faded yellow/white/burnt orange, another in aqua/true blue/rose violet, one in green/navy/lilac and one in white.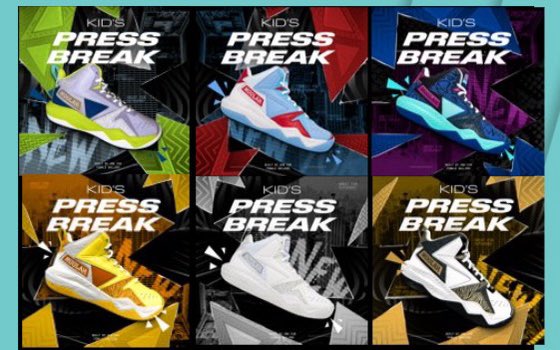 They are also available on the Dick's Sporting Goods website for $89.99. Dick's Sporting Goods has become a known supplier of women's basketball and WNBA merchandise – including in the W's 12 current markets.
Given the tremendous growth of women's basketball at every level, we are thrilled to be expanding our product line with the Press Break and offer young female ballers the most technically advanced performance basketball shoe on the market today.
–Natalie White, Founder/CEO, Moolah Kicks (press release)
The Press Break represents the next step in Moolah Kicks mission to propel women's basketball and will allow future generations of players to compete in a performance product that is engineered exclusively for them.
–Natalie White, Founder/CEO, Moolah Kicks (press release)
Dr. Elizabeth Gardner is the Head Athletics Orthopedic Surgeon at Yale University. She was interviewed for a segment on Bloomberg Television where she made remarks on the importance of girls and women being able to have access to athletic shoes specifically tailored for girls and women.
Gardner mentioned how women's basketball players are more susceptible to ACL tears as opposed to their male brethren. She also mentioned how women have wider pelvises than men meaning the stresses into a woman's knees and legs are different when attempting to balance while playing basketball.
She also mentioned that because of anatomic and biomechanical attributes of a woman's foot, stability is increased which assists with control and reduces the force that travels to a knee. This, too, can also help women and girls who are playing basketball. Gardner is a former team captain for Yale's women's lacrosse team and previously was a team physician for the Connecticut Sun.
White is now based in New York City and her company has had the privilege of working with a few noteworthy women's ballers over the years. These include Destanni Henderson, Taylor Soule, Caroline Ducharme, Aijha Blackwell and current Chicago Sky player Courtney Williams.
The Press Break will offer girls quality shoes made for them and constructed with materials that will allow them to ball comfortably right out of the box.
–Courtney Williams, Chicago Sky, Moolah Kicks Brand Ambassador (press release)
Henderson and Ducharme were announced as brand ambassadors for Moolah Kicks when the brand launched the Neovolt pro women's basketball shoe last year. It was available at $125 at launched and featured four colorways. Moolah Kicks also has the backing of one of the more noteworthy names in sports business – Dallas Mavericks owner/governor Mark Cuban.
Moolah Kicks has also been involved in NIL deals with a number of athletes and has been a sponsor for over 100 travel basketball teams in the AAU realm.