When the Las Vegas Aces triumphed over the Connecticut Sun in four games to win last year's WNBA championship, of course that comes with plenty of pomp and circumstance as is the case with any major sports championship.
The feat the Aces pulled off last season had plenty of local (and statewide) significance given it was the first championship in the history of Las Vegas sports. The Vegas Golden Knights only joined the Aces in Sin City's winner's circle earlier this year.
Of course, among that pomp and circumstance was a parade through the Vegas streets. Several Aces players – including A'ja Wilson, Chelsea Gray and Kelsey Plum – shortly after had to travel to Australia to participate in the FIBA Women's World Cup.
With Team USA's triumph in last season's FIBAs, that added even more hardware to the trophy cases of Wilson, Plum and Gray.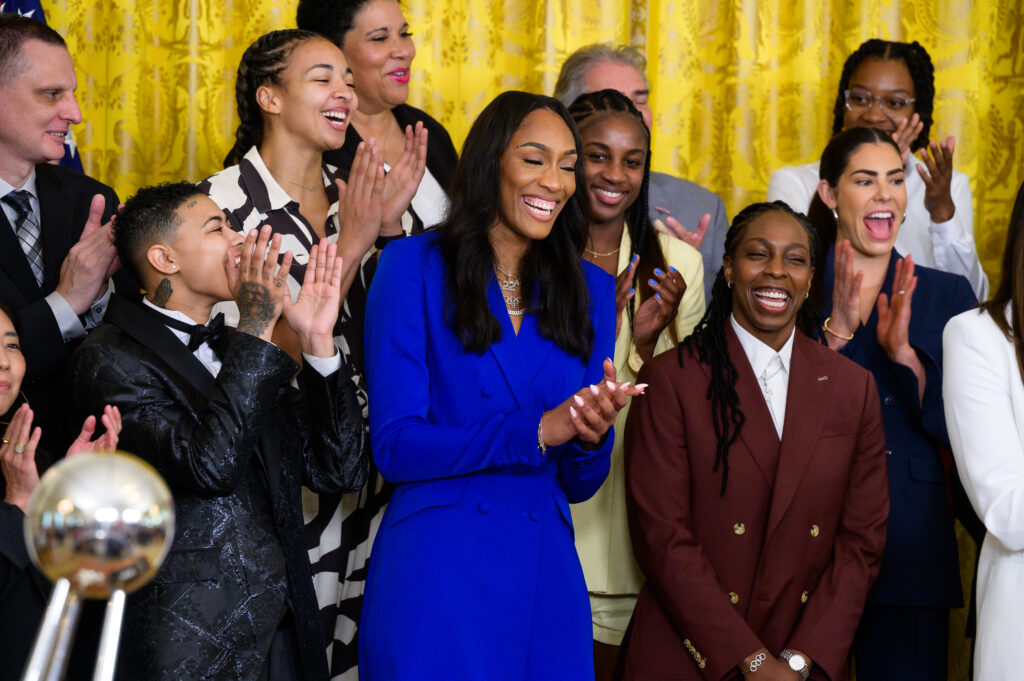 That pomp and circumstance, of course, also included a trip to the White House to be honored by either the President or Vice President of the United States. Those trips typically occur concurrent to when the defending champions match up against the team that plays in Washington, D.C.
The Aces did not make their first trip to our nation's capital until this week. The game itself was less than memorable for Las Vegas fans as the Mystics defeated the Aces by a score of 78-62, but Las Vegas was serenaded like the winners they are at 1600 Pennsylvania Avenue.
And it was Vice President Kamala Harris who did the honors of acknowledging what the Aces accomplished in 2022. 
One could not help but take note of all of the positive role models that were in that space at the White House a few days ago – from the vice president to the Aces players themselves. In the United States, the path to success is never easy – particularly for women looking to make their mark on the world in what is still a very male-dominant society.
And that especially applies to any woman who is Black, Brown, AAPI, Native American or LGBTQIA+. 
It was hard work and determination that pushed Harris to get to where she is currently in the political realm. It was hard work and determination that pushed the Aces to ascend to the top of the class in the WNBA.
The message to young girls could not be clearer – in this era of empowering women and girls to be the best that they can be, they need as many positive role models as they can. Those can be who they see with their own two eyes within their own social circles or who they view on their television and smart devices.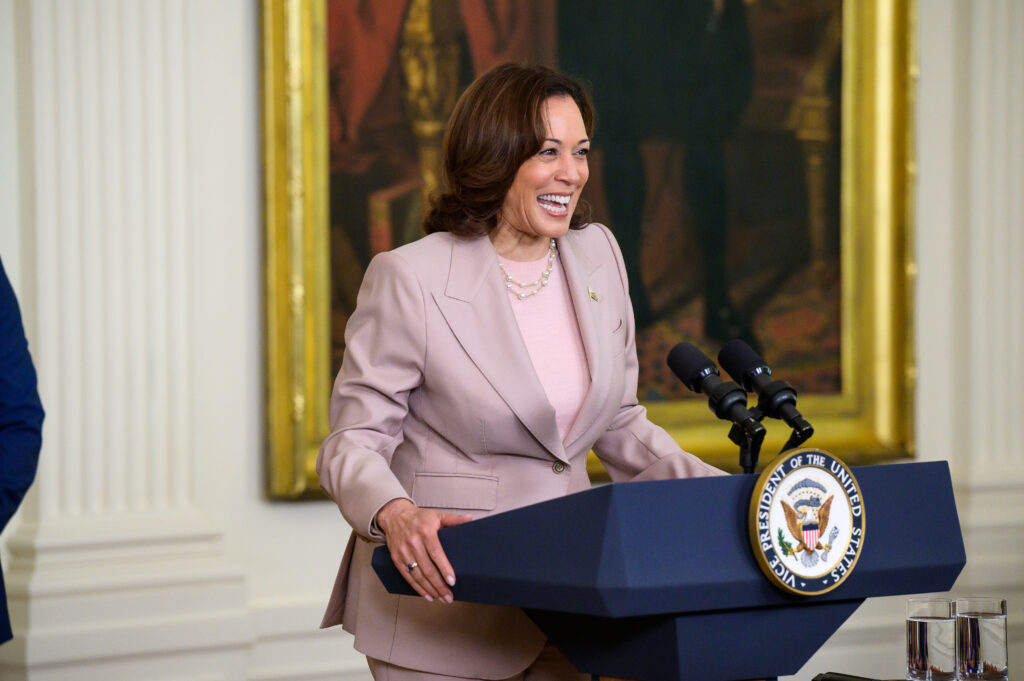 VP Harris is certainly a positive role model for young girls. She is, as they say in political circles, a "heartbeat" away from breaking the highest glass ceiling there is to break. A'ja Wilson, Chelsea Gray, Kelsey Plum, Jackie Young – the entirety of the Aces roster are positive role models for young girls.
One also cannot ignore the story of Aces coach Becky Hammon. An assistant for many years under the wing of one of the greatest NBA coaches in Gregg Popovich. She was almost certain to assume the San Antonio Spurs coaching gig once Coach Pop retired.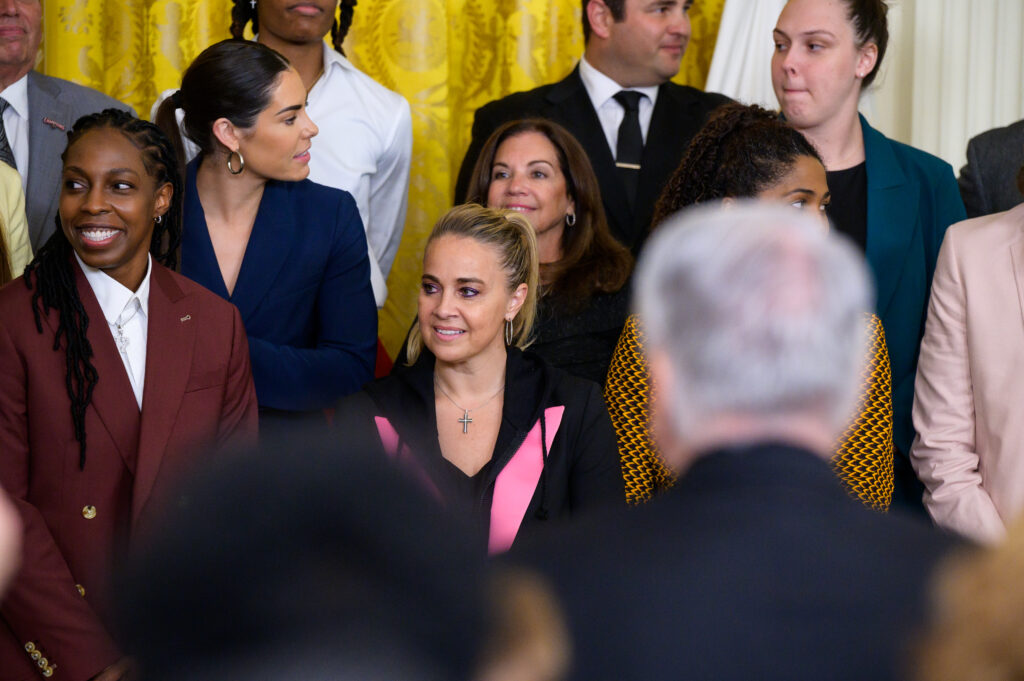 Hammon hoped to make history by becoming the first-ever woman head coach of an NBA team. Once she was denied for job after job, it became clear the NBA and its franchises were only using her for positive PR. Make the NBA look progressive with headlines of a team possibly hiring the first ever woman head coach – without actually hiring the first ever woman head coach.
And before she coached the Aces to last season's WNBA championship, she coached a Spurs summer league team to a championship as well. Sensei Popovich showed Hammon his ways very well.
Hammon returned back to where she was celebrated – in the WNBA – signed the richest contract for a coach in W history, coached the Aces to Las Vegas' first-ever pro championship and has her team in firm position to repeat as champions.
For a long time in many countries – not only the United States – it was considered "unladylike" for women to engage in a "manly" activity such as sports.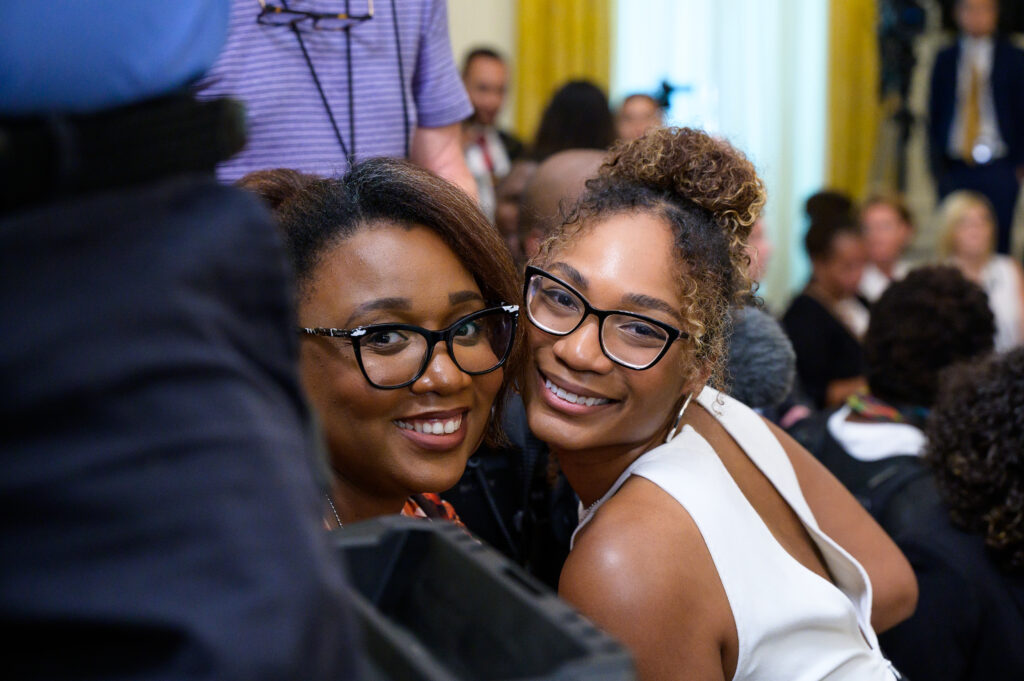 Ari Chambers – one of the many women media members who was on hand at the White House for the big occasion – is a positive role model for young girls. The hard work and dedication of her and many others in the women's sports space have made them ambassadors for the continued advancement of women's sports. 
It is uplifting and heart-leaping to see that we have gone from 40 years ago where Title IX was considered the "Lesbians' Bill of Rights" to today where women's sports champions are being recognized at the highest office in the land.
Seeing all of those influential women on that stage in D.C. had to bring a tear to the eyes of so many mothers – particularly Black moms – who wanted to share that moment with their daughters. That moment was for men and young boys too – and the message is to unlearn what we may have believed about what a woman's place in society is.
It is on men and young boys to continue to uplift our sisters and encourage them to understand that a woman's place is no longer "in the kitchen."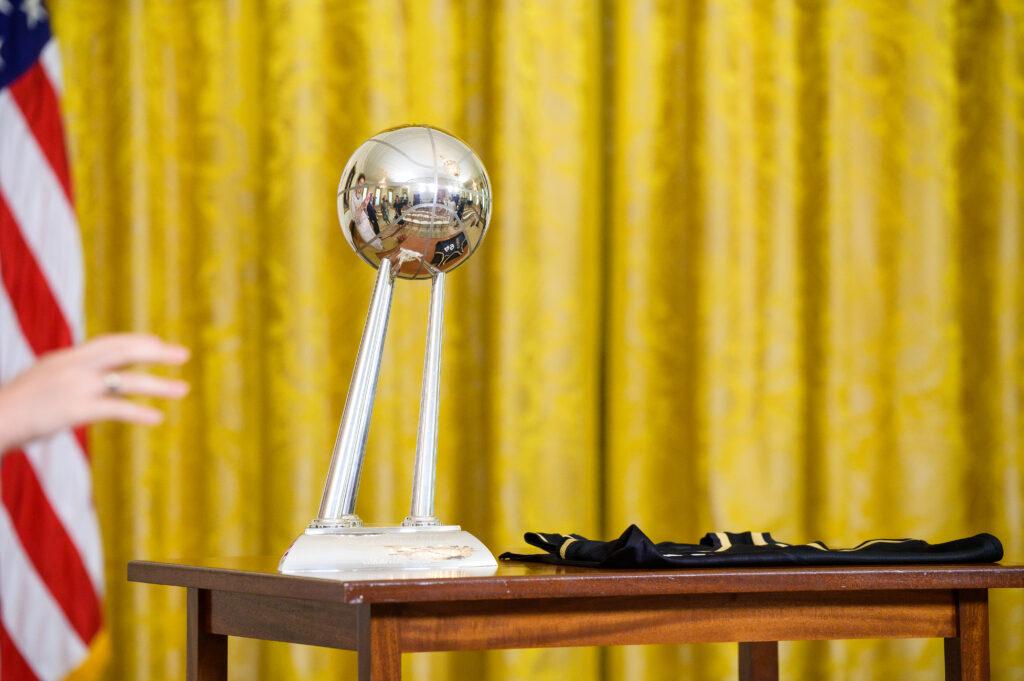 A woman's place is on the court.
A woman's place is in the house – the White House, that is.