The year 2022 is serving as a significant year in women's sports history given it is the 50th anniversary of the passage of Title IX. The measure created a significant amount of opportunities for women and girls who wished to pursue sports and while there is still plenty of work to do to increase those numbers even more, there is more participation among women and girls than ever within the sports realm.
The 1970s were also a time of a growing feminist movement throughout the United States and the world at large. In many ways, a basketball team served as a symbol of that movement.
The 1976 USA Basketball Women's Team that competed in the Olympics, which were in Montreal that year, is the focus of an upcoming book, titled "Inaugural Ballers." The read is written by Andrew Maraniss, a New York Times bestselling author who has already penned four books that deal with the intersection of sports and social issues.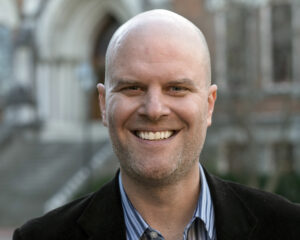 With all my books, I want to write about more than just the scores and the statistics and the characters as athletes. I think it's really important to put the stories into the context of the times and the place.
–Andrew Maraniss, author of "Inaugural Ballers"
Maraniss previously wrote "Strong Inside: Perry Wallace and the Collision of Race and Sports in the South" which told the story of the first Black American to play college basketball in a Southeastern Conference that was heavily segregated along racial lines. He also wrote "Games of Deception" which centered on the first men's Olympic basketball team for the United States that took the court in 1936 in Nazi Germany.
His other work was "Singled Out," the subject of which was Glenn Burke – considered to be the first gay MLB player.
Maraniss recalled going to various schools and students would let him know that they were curious about stories such as that of the 1976 Olympic team.
A couple schools that I was visiting to talk about that book, students would ask me questions about, 'Well who was the first women's Olympic basketball team?'
–Andrew Maraniss, author of "Inaugural Ballers"
As compelling as the story of that team was, one would see why it would spark the curiosity of many a teenage bookworm.
Not only did the 1976 Olympic team serve as an early symbol of Title IX's impact among the sports realm, it also occurred during a rise in awareness to women's rights. Along with this, it also happened around the time of the Cold War when the United States was locked into a much-ballyhooed conflict with the Soviet Union. It also occurred during a push for the Equal Rights Amendment.
Ironically, following the 1976 Games (a financial disaster for Montreal and Canada) – the next two Olympics took place in the USSR and USA, respectively. In 1980, Moscow was the host city of the Olympics, yet it was boycotted by the United States. The Soviet Union then boycotted the 1984 Games in Los Angeles, heralded as one of the most successful Olympics in history.
For the 1976 Montreal team, the Games taking place against the backdrop of the conflict between the United States and Soviet Union put added pressure on Team USA to perform well.
In the locker room before the silver medal game, the coach, Billie Moore, told them that their performance in winning would change women's sports in this country for the next 25 years. So they were aware of the historical significance of what they were doing even as they were going through it.
–Andrew Maraniss, author of "Inaugural Ballers"
Team USA claimed silver at the Montreal 1976 Olympics while the Soviet Union, considered to be class of the international women's basketball landscape at the time returned to Moscow with gold draped around their necks.
For today's aficionados of Team USA, the idea of the group winning anything less than gold is almost unthinkable. After all, the Stars and Stripes have now won gold at seven consecutive Olympics dating back to the 1996 Olympics in Atlanta. The '96 team is the subject of a new ESPN 30 for 30 titled "Dream On" and is credited with being instrumental in the establishment of the WNBA.
But there was not exactly unbridled optimism about the 1976 team – not even within the hallways and boardrooms of USA Basketball.
I do think it's hard for American readers now to picture that we would've even been an underdog in '76 to that extent. But we really hadn't invested in women's basketball the way we do now. USA Basketball was so pessimistic about the US team's chances of even qualifying for the '76 Olympics that they hadn't allotted a budget for the team to live and stay and practice in the weeks leading up to the Games. And they ended up having to just borrow a credit card from the director of USA Basketball just to survive in the weeks leading up to the Olympics.
–Andrew Maraniss, author of "Inaugural Ballers"
The 1976 team proved the negative powers-that-be at USA Basketball wrong – and it increased expectations for what was to come at future Olympics. While the political rivalry between Red Square and Capitol Hill was still boiling, the hoops rivalry between the two nations never really festered itself given the exchange of boycotts at the following two Games.
They knew as a team by the time of the 1980 Olympics that they would be much more competitive with the Soviet team. But they didn't get a chance to play against them in '80 or '84 because of the boycotts, first by the U.S. and then by the Soviets. And so it wasn't until many years later they were able to actually play against each other. And of course, soon after that, you have the dissolution of the Soviet Union. So, it's not even a country that we play against anymore. So, that rivalry, in a basketball sense never really fully developed.
–Andrew Maraniss, author of "Inaugural Ballers"
Team USA did not even qualify for the 1976 Olympics until a last minute qualifying tournament that clinched its berth to Montreal. Meanwhile, the Soviets were the dominant team in the world while Team USA was seen as heavy underdogs.
Moore also believed that the 1976 Olympics were the perfect opportunity for a statement to be made about women's sports in America given the geographical location of the Games. Montreal, like most major Canadian cities, is only a short drive from its border with the United States – meaning it would garner the attention of many an American sports fan and American sports journalist.
In addition, Dr. James Naismith, the individual credited with the invention of the game, was born in Canada. In the one matchup where Team USA faced off against Team Canada, the result was a 89-75 victory at the Centre Etienne Desmarteau on July 22.
But as one could expect given the time period, many of those same American sports journalists were not exactly rallying behind the 1976 Olympic team.
There were American journalists, sportswriters over the years that would say it was women's role to look 'pretty' and not to sweat, not to build muscles. So there was tremendous resistance throughout history of women even competing in the Olympics.
–Andrew Maraniss, author of "Inaugural Ballers"
One cannot look at the history of the five-ring circus that is the Olympics without acknowledging the misogyny and sexism honeycombed within the Olympic movement. At one point, women were not even allowed to watch the Games under penalty of death. Opposition to women competing in Olympic events met many an opponent from IOC founder Pierre de Coubertin to Avery Brundage – the only American ever to assume the role of IOC president.
They were a symbol of women doing something that some segments of society told them they shouldn't do.
–Andrew Maraniss, author of "Inaugural Ballers"
Eventually, the strides women made eventually got them Olympic events – but only those that the five-rings' gatekeepers felt to be "feminine" such as diving, gymnastics and figure skating.
The idea that you would be tall or muscular or big and competing in the paint, boxing another woman out – physical – that was not the ideal that a lot of the old guard in the Olympics had.
–Andrew Maraniss, author of "Inaugural Ballers"
If one were to ask the casual American sports fan what would considered to be a gold standard (pun included) for women's sports, one would think about the success of the USA Soccer Women's National Team.
But the 1976 Olympic basketball team happened prior to there being a USWNT or before FIFA founded a Women's World Cup – the first of which took place in 1991 in China.
That wasn't just an attitude that Olympic officials had, that was a fairly pervasive attitude across American society as well and so I really just came to admire how strong these women had to be even just to play a game. We might take for granted that they should have that opportunity, but their sexuality was called into question, they had older women even denigrating their interest in sports. And so the pockets of support for them were really few and far between and they really helped change attitudes.
–Andrew Maraniss, author of "Inaugural Ballers"
One of their real struggles was just to show that this was something that a woman could do and could do well and that would bring honor to them and to the country.
–Andrew Maraniss, author of "Inaugural Ballers"
In addition to Moore, a number of other noteworthy figures were key in helping the team make the history it did. One of those was Bessie Stockard who founded the Federal City (Washington, D.C.) Panthers' women's basketball program in the late 1960s. She was involved in roster selection for the 1976 team.
Lusia Harris was part of that team as well and was the first Black player to attend Delta State. She also led that team to multiple national championships. Recently, she was the subject of an Oscar-winning documentary entitled "The Queen of Basketball" that featured Shaquille O'Neal and Stephen Curry as executive producers. Harris was also the first woman to be drafted into the NBA.
Gail Marquis, Patricia Roberts and Charlotte Lewis were also among the roster for the 1976 team.
Another one of the noteworthy players of that team was a woman named Pat Head – who eventually became Pat Summitt. Ann Meyers was also part of the 1976 rendition. Sue Gunter was also one of the coaches.
Maraniss mentioned how working around game changers for women's sports is something he is accustomed to on a daily basis. He lives in Nashville and works at Vanderbilt University as Special Projects Coordinator at the athletic director's office.
That director of athletics? Candice Lee who was a captain and four-year letterwinner for the Commodores' women's basketball team. She assumed the role in May of 2020 and became the first woman athletic director in the university's history as well as the only Black woman to lead an SEC program.
As we're celebrating the 50th anniversary of Title IX and as women's basketball has become such a dominant force in the world, I just think it's fascinating to look back at the roots at that.
–Andrew Maraniss, author of "Inaugural Ballers"
The combination of Title IX and the 1976 Olympic team certainly were major steps forward for furthering equality for women's sports as well as for women in larger society. But it was not as if they were treated to the same praise or benefits at the time as their male counterparts.
There wasn't the promise of an athletic scholarship there wasn't a promise of a professional career or endorsements or any of those types of things. And so there's a temptation to say that there was something pure about that. But I don't think we should romanticize that era either. They deserved more opportunities than were there. And it doesn't make the desire to compete and to play that girls and women have now any less noble because there are some things that they can gain from it that those women in the 70s couldn't gain.
–Andrew Maraniss, author of "Inaugural Ballers"
The landscape for women's basketball was so bad at a number of schools even after Title IX's passage that some teams would drive to games in station wagons as opposed to the luxury buses today's teams enjoy. In addition, fans would pull up to courts with folding chairs since colleges and universities did not invest that money into actual seats for women's teams.
Pat Summitt's team at UT-Martin would sleep on the floor of the opposing gym at road trips because they didn't have enough money for a hotel.
–Andrew Maraniss, author of "Inaugural Ballers"
He understands that while the history-making law has done plenty of good in terms of the number of girls and women who are getting involved with sports that there is still plenty of work to be done to achieve real equality.
I think that it's an incomplete story as a way to look at it. You can't say that there hasn't been progress. There were no varsity women's athletic teams at most of the colleges in America at the time before Title IX. Even those that existed (did so) on shoestring budgets with very little investment by the athletic departments, very little support in any way whatsoever to the point that women's track meets were called off because the men's team wanted to practice.
–Andrew Maraniss, author of "Inaugural Ballers"
And this is because glaring inequalities still exist in the field of women's sports when it is compared to their male counterparts. To a very high degree, more women and girls are coming face to face with those inequalities simply because there are more women and girls getting involved with sports than there were in the 1970s.
The USWNT's successful battle for pay equality, the continued fight of WNBA players for better pay and better travel conditions and the attention brought by Oregon's Sedona Prince to the unequal preparation for the NCAA basketball tournaments in 2021 highlight the work that remains to be done.
We saw that in the NCAA tournament a year or two ago so starkly in terms of the weight room and the perks that the women players were given compared to the men. We see it in professional sports in terms of the media attention that is paid to women versus men and the salaries. And things have obviously improved a lot from the 1970s but that doesn't mean there still aren't battles to overcome and every generation has its own fights.
–Andrew Maraniss, author of "Inaugural Ballers"
We know that scholarship opportunities tend to be less at most schools. The investment in women's sports, which is supposed to be equitable is also still not equal, even though there's a difference between equitable and equal. Media coverage has not been equal.
–Andrew Maraniss, author of "Inaugural Ballers"
He also understands one unintended consequence of Title IX. Women's college sports used to be under the administration of the old AIAW, virtually every leadership opportunity was held by a woman. Men at the time were not interested because they knew that the investment was not found. Since the NCAA took over in the stead of the AIAW, this has led to less women receiving these chances to coach and lead programs.
Coaching opportunities have actually diminished for women. Back in the old AIAW days before the NCAA began to administer women's sports, men weren't interested because the money wasn't there. There were more leadership opportunities for women. It was basically all women coaching or leading the women's athletic departments at these schools. Since more money has been invested in women's sports, the percentage of men coaching has increased and the opportunities for women leaders, whether as coaches or athletic directors has decreased.
–Andrew Maraniss, author of "Inaugural Ballers"
Women's sports luminaries such as those within the WNBA, NWSL and other women's sports leagues constantly mention a common aspect to the fights that they have for women's equality – to have these struggles now so that they do not have to be passed down to future generations.
This was mentioned by WNBA players prior to its CBA it ratified with the league at the beginning of the 2020 year. It was a CBA that was hailed as "groundbreaking" at the time.
We saw that very visibly with the women's soccer team and fighting for pay equity so that they may benefit from that, but may not, but future generations will certainly benefit from that. And I think that's the way that these women on the 1976 Olympic team felt also.
–Andrew Maraniss, author of "Inaugural Ballers"
Progress, though, has been made in one key area, Maraniss mentioned. In 2022, it is no longer considered a radical idea that a girl would be interested in pursuing a sports career considering how an increasing percentage of the population understands that athletics do not have a set gender.
In the Title IX era, it used to be considered almost taboo for a girl to be interested in sports. Not anymore.
Just the expectations of what a girl or woman can do has changed significantly. I don't think, by and large, girls these days consider it going against the grain to play basketball or to play softball or to play volleyball. So, in that way, the women who really lived through the Title IX era have changed American perceptions in a significant way that has opened many opportunities for young women.
–Andrew Maraniss, author of "Inaugural Ballers"
Being competitive, wanting to win. If those are considered valuable lessons of sports for boys and for men, why wouldn't they be equally valuable for the other half of the population? And they were saying that and proving that just by stepping onto the basketball court.
–Andrew Maraniss, author of "Inaugural Ballers"
Stories such as the ones Maraniss spotlights in the book, which will hit bookshelves in September, are those he understands young readers are more in search of.
It is a common belief that fiction books are the ones that typically saturate the teen market. Maraniss understands that there is a very strong demand among this same demographic for reads pertaining to nonfiction, particularly stories about how people had to overcome sexism and racism to obtain success in what they were pursuing.
Teens, young readers, boys, girls, they're hungering for these types of stories. There haven't been many true stories of women athletic pioneers for them to read. And they want that. They're calling for these types of books and so I'm excited about that. I think that they're interested in knowing more about history and how sports played into that. They're certainly interested in issues related to women's rights that are still so important today and to see how the connections that are there between what women were fighting for in the early 70s, mid 70s compare to what we're fighting for now – in some cases the same issues.
–Andrew Maraniss, author of "Inaugural Ballers"
Everybody's different. Some people love fiction, some people prefer nonfiction, some people read both. But I think that there has overall been a lack of available nonfiction for young readers. And so, I'm trying to address that. I'm trying to write the types of books that I would've loved to have read when I was that age.
–Andrew Maraniss, author of "Inaugural Ballers"
The strategy for Maraniss as far as the book is concerned is twofold. He understands that since the book itself is aimed at young readers that the teen/young adult market will certainly be interested given their high demand for more nonfiction works that highlight social issues.
Maraniss also understands that it will also be a hit among those who lived through the Title IX era and will be able to recollect much of what went on around that time – particularly during that Olympic year of 1976. He also hopes that those that may not be regular bookworms could purchase the book and it could increase their interest in wanting to become regular readers.
I hope that readers of all ages who love to read will be interested in my books and even people who could care less about sports. I think that my books are intended to tell human stories about social issues about social issues that matter to all of us whether you care about basketball or not.
–Andrew Maraniss, author of "Inaugural Ballers"
In lots of ways, it is a common belief that today's kids may not be as interested in books because of the time they spend playing video games or the time they spend perusing social media. Maraniss understands that many a teenage reader is interested in sports and that if an athlete (or athletes) are on the front cover that it can be a method to potentially draw their interest.
He feels that such books will also have teen would-be bookworms thinking that there are authors, such as himself, writing works that are of interest to them and that these books can actually be found on bookshelves.
We certainly see everyday that truth is stranger than fiction. And we also see people trying to stifle the truth. So, I think in that respect, true stories are more important than ever. There are certain kids that don't read anything. So, that's another problem to address. Some of those kids happen to be sports fans. And so my hope is that for those kids who don't spend a lot of time in the library or don't think that there's that they would be interested in that at least a book with a basketball player on the cover or a baseball player on the cover will seem accessible to them.
–Andrew Maraniss, author of "Inaugural Ballers"
And with this book … my hope is that it'll have readers across all different ages. It'll be the teens that are interested in it, because it's marketed towards then, it's considered a young adult book, it tells a story that they're hungering for. But also the people who lived through that Title IX era and the coming of Title IX – women who were denied opportunities when they were young athletes will be interested in reading about an era that they know well and reading the story of women who were representing what they wanted to achieve and what they as a generation did achieve and how they changed the country.
–Andrew Maraniss, author of "Inaugural Ballers"
One would not think that in the year 2022 that the idea of any book that puts a spotlight on structural sexism or racism would be controversial. Unfortunately, it is with several states – including Maraniss' very own Tennessee – working mightily to ban books that put a lens onto racism, sexism, homophobia, xenophobia and bigotry because those topics are said to be part of a "woke agenda" – as if that was something to be ashamed of.
For Maraniss, the pushback against any work that illustrates the continued inequalities of white male-dominated society and culture only ups his desire to want to write such books.
I live in Tennessee where there was legislation just this past session to ban books dealing with gay characters or themes. There's been fake hysteria whipped up around critical race theory. There's been legislation to ban the discussion of 'divisive concepts' such as racism. And so it's really disgusting and it's all part of a larger effort that's really attacking democracy in public schools right now. Personally, it just fuels me even more to write these types of books. I think they're all the more important and necessary.
–Andrew Maraniss, author of "Inaugural Ballers"
He believes his own generation is letting society down – and particularly letting younger down generations who understand that the future is diverse, vibrant and will no longer be held back by the antiquated beliefs of their ancestors. In many ways, it serves as another point of inspiration to aim books like "Inaugural Ballers" at young readers.
Young people are the hope of this country right now in so many ways. I'm so disappointed in the older generations – my age and older who seem to be letting us down in so many ways and particularly letting kids down. Kids are bearing the brunt of the racism and the sexism and the homophobia, gun violence in this country. And so I think a story that celebrates diversity and justice and equity just so happens to be told through basketball is something that young people are interested in reading.
–Andrew Maraniss, author of "Inaugural Ballers"
After all, in Maraniss' case, he gets inspiration for what he does as an author from who he works around on a regular basis.
This whole topic is something that has meant a lot to me for a lot of different reasons, but even just everyday, I'm working for and alongside a woman who is a basketball pioneer and athletic pioneer in her own right.
–Andrew Maraniss, author of "Inaugural Ballers"